Akasaka

CMI Trading Services Ltd. - Group of companies Representatives & Distributors, Spare parts supplier for all Japanese and European marine propulsion and auxiliary engines
Read More...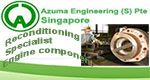 Qualified Recondition Repairer (ISO 9001:2000 since November 1998)Qualified marine diesel component repairer for:Piston crowns Cylinder covers Exhaust valve spindles Exhaust valve seats Exhaust housings etcCertified by:Our reconditioning and repairing tec ...
Read More...

Company's services include : Ship's Agency at Panama Canal all ports of Egypt, Inspection & Maintenance of Life boats/Davits, Fall Preventing Devices (FPDs) supply, Anqing Daihatsu 5DK-20 parts supply,  protection from Pi ...
Read More...
Chittagong, Chittagong, Bangladesh
Ship spare parts and equipments exporter/supplier with greater concern on quality. All kind of second hand ship's equipments and spare parts from the range of main/aux engine parts, turbocharger, oil separators, air starting compressor, navigation and com ...
Read More...