Gaskets - Rubbers - Joints Tapes
Manufacturers. We manufacture and supply any kind of expansion bellows for exhaust and auxillary pipelines of lubricating oil and cooling water for a number of reputed Diesel engines. We also manufacture any kind of impeller for air blowers as per sample.
Read More...

Representatives & Distributors. The main activity is the representation in Greece of Ship Spares Manufacturers' Chesterton Reintjes propulsion Berg propulsion Polarmarine tank ceaning machines Vulkan DMR Shock & Vibration Control Flexible coupling ...
Read More...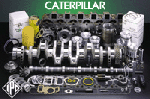 Representatives & Distributors. INTERTRADE LTD is a servicing to international shipping. In cooperation with makers and dealers in Europe and U.S.A. we procure original spare parts for diesel engines DEUTZ (KHD), MWM, STORK, MaK, CATERPILLAR, CUMMINS ...
Read More...

Exclusive Distributor of SOTECO INTERNATIONAL Spare parts for Alfa Laval/ Westfalia/ Mitsubishi Fuel oil, Diesel oil and Lub. oil Separators, Heat Exchanger Gaskets, Heat Exchanger Plates, IMO Pumps' spare parts NIREX Fresh Water Genera ...
Read More...

Chesterton is a leading international manufacturer of mechanical seals, packing and gasketing, engineered polymeric solutions, advanced polymer composites, cleaners, lubricants, and industrial specialty products.
Read More...

Specialised in the provision of deck, engine, cabin stores, equipment and services.
Read More...

Joiner Systems designs, engineers and manufactures top quality accommodation systems for commercial and naval ships, expansion joints and dampers for environmental and industrial use, as well as a wide array of custom industrial products. The company, lo ...
Read More...

Rotterdam-Hoogvliet, Netherland
Cargo Care Solutions is a young company with a long history on the field of cargo access equipment. As former after sales network of Macor Neptun and SEOHAE Marine System we have over 30 years of experience in our branch. Today we are an independent and a ...
Read More...

The principal activities of our company involve the manufacturing and sale of a wide range of butterfly valve seat rings as well as packings and gaskets which are used onboard crude, product and chemical tankers in the marine industry.
Read More...
The company was founded in 1975 and from the beginning of specializing in manufacturing all types and kinds of rubbers and in particular to rubbers for ship's hatch covers (Sponge rubbers,Solid rubbers). With quality always controlled the production of o ...
Read More...

Valveco is a leading company. When it comes to the supply of valves, pipe couplings, air vent heads, flanges, technical ship supplies and a reconditioning services for shipping and industry.
Read More...

Separators, repairs and spare parts. Alpha Hellas Service is a company that offers repairing services to separators of all types. Having long specialized knowledge, we can offer high quality of service, prompt delivery and a warranty bond in best prices. ...
Read More...

Flange & Pipe ProtectionM&P has been making flange protector and pipe protection products for over 50 years.  We offer a complete range of flange protection and pipe protection products.  Not sure what product you need, give us a call an ...
Read More...

Ship's equipment and supplies.
Read More...